15-65mm Bark Nuggets
PRODUCT DETAILS
AHS are proud to have been supplying the UK landscape industry with bark and woodchip for more than 25 years.
Our 15-65mm Bark Nuggets are a chunky redwood bark, produced from pine, Douglas fir and larch, ideal for creating a decorative effect. Rich mid-brown in colour.
FEATURES
100% British
Typically 90% of particles 15-65mm
Minimal dust and fines
Durable and long-lasting
Minimal white wood content, typically no greater than 5%
Bulk density typically 200-250kg/m3
pH range 4.5-5.5
Free from methyl bromide, pathogens, pests and weed seeds
Fire-resistant, in accordance with BS 4790:1987, ideal in areas of fire risk.
APPLICATION RATE
We recommend that all of our mulches are laid at a depth of 50-100mm to obtain the best results.
AVAILABLE IN
Bulk Loose
70ltr Bags
Bulk Bags
DOWNLOAD THE FILE IN JUST ONE CLICK
Error: Contact form not found.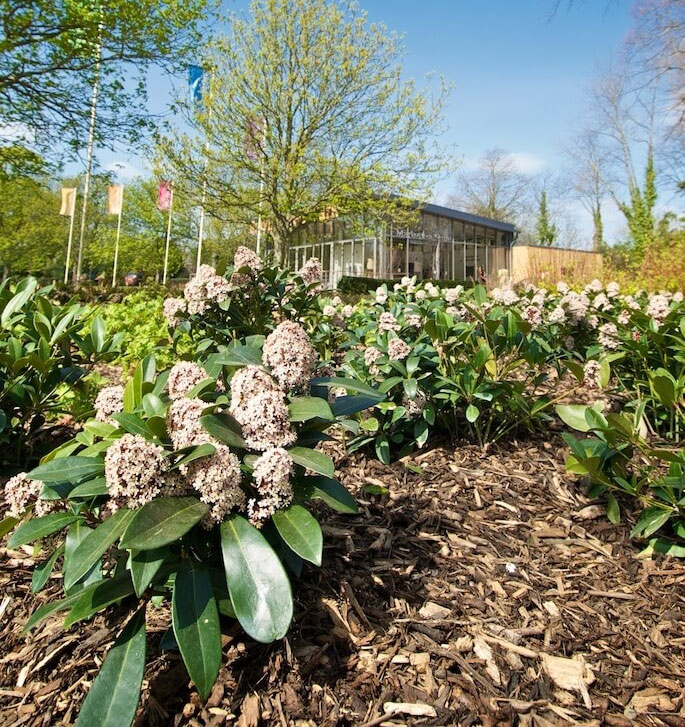 Key Benefits
8-35mm Contact Ornamental provides outstanding organic weed suppression by reducing the need for expensive manual or chemical control on all planting schemes.
Durable, long-lasting and free from pathogens, pests and weed seeds
Creates an insulating layer throughout winter months helping to protect root structures from the damage associated with frozen ground.
Our springs and summers are getting hotter and during these periods 8-35 contract ornamental helps to preserve moisture levels in soil, which helps reduce stress levels and plant losses. It's a totally natural way to reduce the frequency of manal watering, therefore, helping to preserve valuable water supplies.
Hostile living environment for pests.
Provides natural organic matter to improve soil structure.
Latest Bark Projects Gallery
UK's number one supplier of ornamental bark and woodchip has been granted the Royal Warrant of Appointment.
AHS Ltd are proud to announce that we've achieved the PlanetMark Year 2021 Business Certification
We at AHS Ltd are very excited to announce the launch of our revamped website!
Error: Contact form not found.