Vegetated Wall System
PRODUCT DETAILS
The Ahs Vegetated Wall System is superbly simple, consisting of just two primary elements that combine to form a solid yet visually and ecological sound structure – a geotextile bag and locking plate.
The Vegetated System bag is formed using a geotextile that offers a filtering purpose to the system. The bags allow water and plant roots to pass through the system while preventing the loss of soil particles. Full structural strength is obtained on completion of installation. Before, during or following installation, a growing medium must be applied to the system. The face of the Vegetated System is designed to become established within one growing season.
APPLICATIONS AND FEATURES
Soil stabilisation
Erosion control
Gravity and reinforced walls
Areas with limited access
Road edging
Road embankments
River bank reinstatement
Rail embankments
Garden terracing
Low impact installation.
Woven Bag
We use a permeable needle punched, non-woven geotextile to make our bags. The material is heat bonded on all sides to help maintain the bag's shape when filled. The geotextile is UV stabilised, ensuring the bags do not rot.
Bag size when filled: 300mm wide x 750mm long x 140mm high.
Generally 14 bags per m2 (tie back method).
Polypropylene Plate
The plate is manufactured by injection moulding using talc filled polypropylene and uses wholly sourced recycled material.
The result is a consistently high-quality product that has great resistance to naturally found alkalis and acids within the ground and exhibits high fatigue resistance.
Size: 330mm long x 100mm wide x 42mm high – with 11 spikes.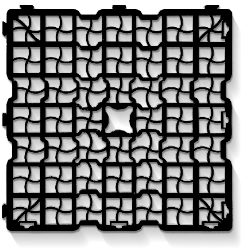 Talc-filled polypropylene: 74gm
Density: 0.98G/cc
Tensile strength: 28MPa
Elongation at break: 40%
Modulus: = 1.8GPa
Notched Izod: = 1.2j/cm
Melting point: = 157°C.
PAVING GRID WITH GRASS INFILL
PAVING GRID WITH GRASS INFILL

01
The existing subsoil/base (F) should first be tested to determine strength and permeability. Excavate/level the subsoil/base in preparation for the laying procedure as detailed below.
02
Cover the subsoil with a layer of Geotextile Membrane (E).
03
Apply an open grade sub-base (D). Drainage may be required if subsoil has poor permeability. The depth of this sub-base will depend on the strength and permeability of the existing subsoil. For the purpose of these installation guidelines, we have assumed a CBR strength of the subsoil of 2-4, which requires a sub-base depth of 150-225mm. If the strength of the subsoil is deemed to be lower than this, the depth of the sub-base will need to be increased accordingly. It is essential that the sub-base is compacted with a vibrating roller or vibrating plate.
04
Apply a bedding layer of 50-70mm (C) of 60-40 or 70-30 root zone. The bedding layer must be compacted.
05
Apply AHS Paving Grid (B). Fill the grid with more of the root zone, to within 3mm of the surface of the grid. Do not overfill the paving cells.
06
A vibrating plate can then be used to firm the grid and root zone infill.
07
The area can now be seeded and watered. Do not overfill the paving cells.
08
The seeded area can be driven on immediately. However, we strongly recommend that you allow time for root establishment before using it. Watering is essential during the early days/weeks of establishment, especially during times of exceptionally hot weather.
09
Edging and/or kerbing should be used with AHS Paving Grid to prevent lateral movement and ensure the grid is able to withstand pressure from vehicular and pedestrian use. 10 Maximum recommended gradient for vehicular use is 11°.
Latest Paving Grid Project Gallery
UK's number one supplier of ornamental bark and woodchip has been granted the Royal Warrant of Appointment.
AHS Ltd are proud to announce that we've achieved the PlanetMark Year 2021 Business Certification
We at AHS Ltd are very excited to announce the launch of our revamped website!
Error: Contact form not found.