Path Edging
RITE EDGE
Rite Edge is the multi-award winning aluminium lawn edging system designed by landscape architects which keeps that pristine, neat garden appearance with perfect straight corners, enviable curves and shapes around borders, lawns and pathways. Rite Edge is incredibly easy to install and is used by both professional landscapers and garden enthusiasts alike, ensuring that 'just edged' look without all those hours of back-breaking edging and spade work.
Rite Edge is manufactured aluminium alloy 6063 to a T6 hardness so there is no painting, staining, rusting or replacing to worry about as the product is designed to last at least 27 years. Aluminium being light, it's easy to handle and comes in long lengths with a unique telescopic design to make installation very neat, quick and easy, secured in place with barbed fixing stakes. The profile has a smooth round top edge, so there are no sharp edges to cut you or damage the lawn mower blades and a castellated body that gives maximum strength for heavy lawn movers and prevents lifting by frost.
Rite Edge is available in a range of different colour options from the standard Natural to the anodised colours of Brown, Green and Black. Each length measures 2.400m and is sold in packs of 14 lengths, giving 33.60m per pack. Smaller packs are available in Natural and Brown with a shorter length of 1.2m and sold in 4 lengths per pack, giving 4.8m per pack overall.
RITE L EDGE
Right L Edge is also available in a variety of different depths from 18mm-150mm, with each length measuring 2.4m so it is versatile for any hard landscaping project. Joining of the lengths is very quick and simple as connectors are supplied to simply slide into the back of the upright L shape, giving a flush joint. The product will need to be secured into the ground by use of extra strong steel fixing pins, which are sold separately. We generally recommend 30cm spacing for compacted surfaces and 50cm for non-compacted surfaces.
Path Edging
KEY BENEFITS
Quick and easy to install
Maintenance free
Will not lift in frost
Save hours of back-breaking edging work
Ensures 'just edged' look permanently
Can be used in many border options — sand, gravel, lawn, pebbles, slate, etc.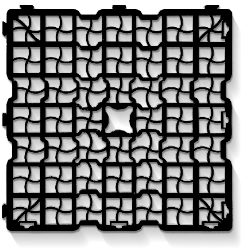 RITE EDGE — 2.4m
Available in a variety of colours:
Natural
Brown
Green
Black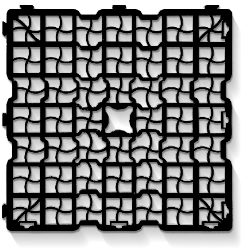 RITE EDGE — 1.2m
Available in a variety of colours: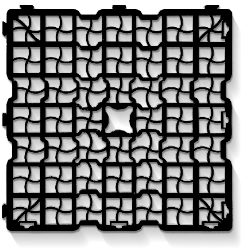 RITE L EDGE
Colour: Natural
Sizes: 18 x 30mm, 25 x 50mm, 38 x 50mm, 50 x 50mm, 64 x 50mm, 75 x 70mm, 100 x 70mm, 120 x 70mm, 150 x 70mm
PAVING GRID WITH GRASS INFILL
PAVING GRID WITH GRASS INFILL

01
The existing subsoil/base (F) should first be tested to determine strength and permeability. Excavate/level the subsoil/base in preparation for the laying procedure as detailed below.
02
Cover the subsoil with a layer of Geotextile Membrane (E).
03
Apply an open grade sub-base (D). Drainage may be required if subsoil has poor permeability. The depth of this sub-base will depend on the strength and permeability of the existing subsoil. For the purpose of these installation guidelines, we have assumed a CBR strength of the subsoil of 2-4, which requires a sub-base depth of 150-225mm. If the strength of the subsoil is deemed to be lower than this, the depth of the sub-base will need to be increased accordingly. It is essential that the sub-base is compacted with a vibrating roller or vibrating plate.
04
Apply a bedding layer of 50-70mm (C) of 60-40 or 70-30 root zone. The bedding layer must be compacted.
05
Apply AHS Paving Grid (B). Fill the grid with more of the root zone, to within 3mm of the surface of the grid. Do not overfill the paving cells.
06
A vibrating plate can then be used to firm the grid and root zone infill.
07
The area can now be seeded and watered. Do not overfill the paving cells.
08
The seeded area can be driven on immediately. However, we strongly recommend that you allow time for root establishment before using it. Watering is essential during the early days/weeks of establishment, especially during times of exceptionally hot weather.
09
Edging and/or kerbing should be used with AHS Paving Grid to prevent lateral movement and ensure the grid is able to withstand pressure from vehicular and pedestrian use. 10 Maximum recommended gradient for vehicular use is 11°.
Latest Paving Grid Project Gallery
UK's number one supplier of ornamental bark and woodchip has been granted the Royal Warrant of Appointment.
AHS Ltd are proud to announce that we've achieved the PlanetMark Year 2021 Business Certification
We at AHS Ltd are very excited to announce the launch of our revamped website!
Error: Contact form not found.