Straw Based Horse Manure
PRODUCT DETAILS
AHS are proud to have been supplying the UK landscape industry with bark and woodchip for more than 25 years.
The AHS Straw Based Horse Manure Soil Improver & Conditioner is a 100% natural, peat free, manure-based fertiliser and full of essential nutrients to help boost the fertility of soil.
This Soil Improver & Conditioner helps to promote vibrant colours to flowers and naturally advances the growth of vegetables, fruit trees and flowers (especially in roses) making this the perfect soil conditioner to make gardens colourful.
When the Soil Conditioner is mixed into soil it improves moisture retention, soil structure and texture. It can also help break up any clay soils and gives body and substance to sandy type soils, making it a versatile soil improver for many types of horticultural requirements.
FEATURES
Peat free
100% natural
Helps maximise vegetable growth
Rich in essential nutrients
Strengthens soil structure
Straw-based manure
PH level 8.65
Free of all foreign matter*
*While all practical measures are taken to remove foreign matter such as metal, glass and plastic, we cannot guarantee the complete absence of all extraneous material. The total amount will not exceed 0.2% by weight.
APPLICATION RATE
For unplanted areas spread evenly over the soil surface to a depth of 100mm, then dig to a depth of 300mm. In planted areas spread evenly over the surface to a depth of 50mm and fork carefully to avoid damaging plant roots. To improve problematic soils, apply at a rate of 150mm.
AVAILABLE IN
Loose loads
1000ltr bulk bags
40ltr pre-packed bags.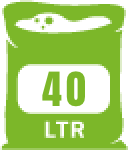 APPLICATION RATE
We recommend that all of our mulches are laid at a depth of 50-100mm to obtain the best results.
AVAILABLE IN
DOWNLOAD THE FILE IN JUST ONE CLICK
Error: Contact form not found.
Laying New Turf
Autumn into Winter
As the season turns from autumn to winter, this is the ideal time of year to lay new turf. Surprising, we know, but it really is the way forward – and here's why…
Heavy soil can be a pain to work with, but a well-prepared base makes life so much easier.

Using the right machinery makes a lot of difference – make sure you are using the correct machine for the job, so you don't create a bog!

The turf is less likely to burn or be stressed during the laying process.

Less water will be used during the initial process, as the turf and soil beneath will already be holding much more than during the summer period.

Much better for the wildlife around the area – birds and animals won't be nesting, and you won't be disturbing pollinating bees. Keep an eye out just in case of visitors, but generally this is a much better idea than spring or summer turfing jobs.

Any drainage issues can easily be spotted and fixed.

Most trees and plants are dormant during this time of year.

The turf has more time to develop and form strong roots.

Less/no mowing until spring.

Clients are less likely to want to get out in the garden and walk over freshly laid turf.
AHS Turf is ideal for all your turf projects, for everything from lawns to football pitches, so please contact our sales team today for further information.
Error: Contact form not found.