AHS Dura SedumMat Flat Roof
PRODUCT DETAILS
AHS Dura SedumMat Flat Roof comes with everything you need to turn your standard, dull space into a delightful green roof, full of plants and flowers.
Green Roofing is becoming more and more mainstream as architects, garden designers, property developers and householders work harder to improve eco-efficiency and combat the effects of climate change. There are a plethora of benefits associated with using AHS Dura SedumMat Flat Roof, not least that it creates a real talking point.
AHS Dura SedumMat Flat Roof is grown out of doors in the UK, so it has a low carbon footprint and is well adapted to our climate. There's a lovely mix of plant species and it flowers merrily for at least 6 months of the year. Sedums plants are very easy to care for. Being succulent plants, they cope well with drought conditions and once established will only need a very occasional watering even in extremely dry weather. Feeding is important though. Please be sure to apply a specialist sedum feed every spring.
To utilise AHS Dura SedumMat Flat Roof, your roof must have a load bearing capacity of at least 120kg per square metre. Please note that this includes the weight of live loading, such as a person walking on the roof in order to install the flat green roof or carry out maintenance.
Flowering time, April to September (depending on local weather conditions)
Plants grow to a height of approximately 15cm but can vary
Generally frost hardy to -20°C
Perennial plants will grow back every year
Plants will not be in flower when AHS Dura SedumMat Flat Roof is delivered
Can be installed at any time of year
Changes appearance from year to year as it adapts to local weather conditions and management styles.
SPECIFICATION
Standard size: 1m2 (500mm wide, 2000mm long)
Contains 10% native grasses and 90% native wildflowers
Prefers a neutral pH, but can tolerate acidic or alkaline soils
Grown on a sandy loam and compost based substrate.
DOWNLOAD THE FILE IN JUST ONE CLICK
Error: Contact form not found.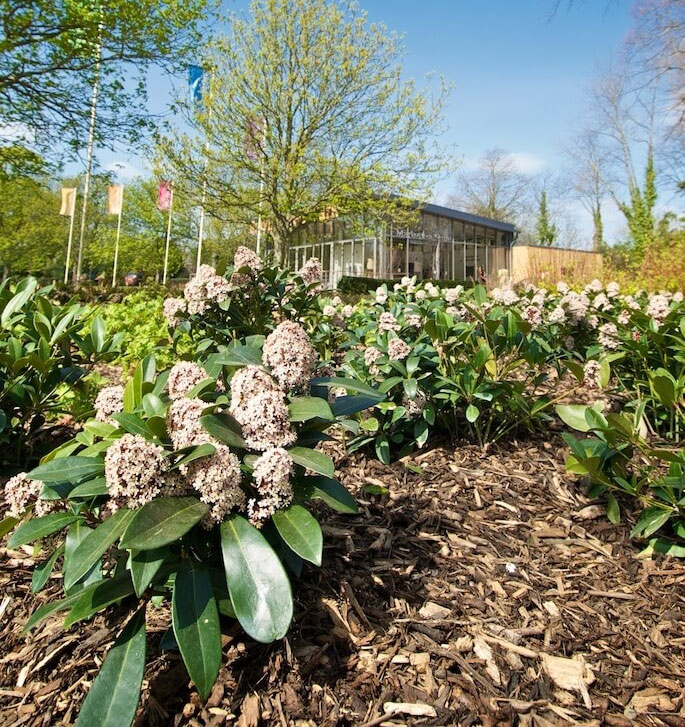 The benefits of incorporating bark into your landscape projects
8-35mm Contact Ornamental Bark provides outstanding organic weed suppression by reducing the need for expensive manual or chemical control on all planting schemes.
It is durable, long-lasting and free from pathogens, pests and weed seeds.
It creates an insulating layer throughout the winter months, helping to protect root structures from the damage associated with frozen ground.
Our springs and summers are getting hotter and during these periods, 8-35mm Contact Ornamental Bark helps to preserve moisture levels in soil, which also helps to reduce stress levels and plant losses. It's a totally natural way to reduce the frequency of manual watering, therefore, helping to preserve valuable water supplies.
Bark provides a hostile living environment for pests.
And, it provides natural organic matter to improve soil structure.
Error: Contact form not found.